Internal working day. In the morning, the workshops of the week were planned and three of them were started: Gobernace, CivictechLab and CommoningLab.
In the afternoon, the Atlas coworking room – the association of Anzofé Street, in the heart of La Isleta, which hosts this year's Glocal Camp 2018 – was the place where the connection via hangout with other nodes of the network took place. "We have to achieve a presence through digital," reflected Mario, from Alicante.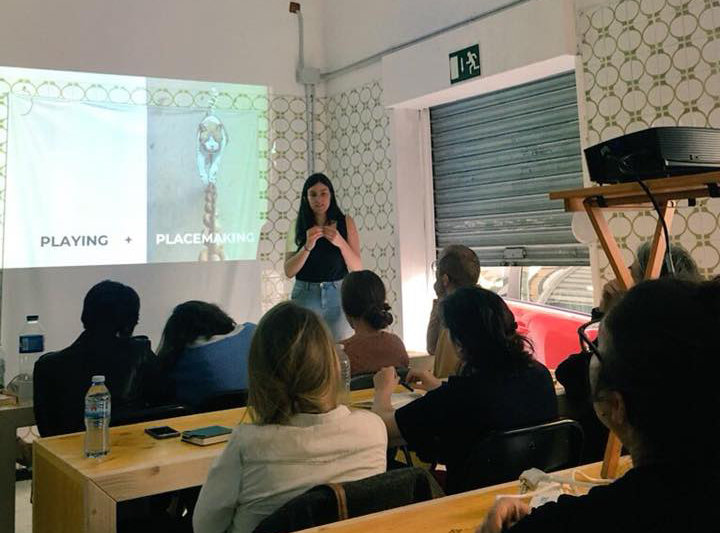 Photography: CivicWise
Elisa, Mexico City.
For several months now we have been in contact with the network in Argentina and Mexico on issues related to managing the network, seeing the difficulties that arise and being able to strengthen it and give it a real structure. In Mexico we were in contact thanks to the civic design course. Due to the particularities of our territory, it is very difficult for all of us to get together. The Glocal is a time to connect, bring the network together and generate an identity that allows us to operate.
Oscar, Mexico City.
This past year we have been interacting in a very active way. It's hard to have long meetings. A year ago we met Domenico, and it was a great engine to be able to interact physically and share reflections. We also understood the particularities of our contexts. We link everything that is happening at CivicWise to the reality of CDMX. This year we have been strengthening the network. The "Glocalito", for example, was held in Pachuca a few weeks ago. We're in a process right now that we're getting very active.
Victor, from Buenos Aires.
The circle is powerful. It also coincided with the arrival of Domenico in 2017. We're moving fast, there's a lot of people joining us but we're still under construction. There are quite a few projects going on. This debate on globality is sometimes a little far away because we have had a lot of physical presence, many links that have helped to strengthen the circle. The doubt was the relationship with that globality. How to deal with it, knowing there are people on the other side to interact with. Doubts about the name, the language. We are interested in strengthening the circle beyond the name we have. It is easy for us because we are connected in the same city. When it comes to setting up something more global, it gets complicated, because this is not the same as Europe, where everything is closer and it is easier to move around, and cheaper too. We have to see what happens to the theme of globality, especially when other places are added that are not yet there.
Analía, Buenos Aires.
We did a Summer Camp in Rosario, a kind of team retreat, and we want to organize another one in Córdoba. The circle is very close; perhaps we do not feel such a need to connect with the international network because it is difficult to cross these borders.
Artemi, from Las Palmas.
Our will is to try to make what is being done here available in real time anywhere. The Glocal is a time when the network undergoes a change; it is a time when several nodes become concrete and start working on the same things. We are beginning to understand that it should be more economically sustainable in order to bring more people together in person. In this edition we have obtained some funding that has lowered the price of transport, accommodation, food. Work could be done to have this done in several places, even to have several of them held simultaneously, such as the Glocalito. We also thought that the workshops of this Glocal could be done in parallel in other places. That we do not depend on a single territory: ideally, the Glocal should not occur in a single territory at a time, but should bring together several nodes to work.

I wish we could make the Glocal Camp more glocal, and be closer together no matter where it takes place.

In January we had a meeting in Madrid with 10-12 people from different parts of Spain. Meetings that take place within the network would do well to communicate. That if one circle is going to speak, for example, of neighbourhoods, that it can start from what has already been discussed in another. If our communication mechanisms fail, we'll step on it. We must work to ensure that what is spoken in any part of the world within the network is communicated.
Maria, from Las Palmas.
On the question of how we connect networks, an example. I was able to go to Puebla with a project and set up a team there with the people from the network. I didn't know them but the work dynamics were identical. This is a strength of ours, to be able to give the client or the community a coordinated team anywhere in the world. Mario calls it "multi belonging": "It is something that greatly strengthens the strength we have.
Bentejui, from Las Palmas.
Creating your own format is legal and necessary. We have some peculiarities in the Canary Islands circle, because we are not all on the same island. We see each other relatively little. We had a face-to-face meeting outside the Glocal, in the style of the glocalitos of Latin America. I believe that the configuration of the teams should work not on the configuration of the circle but on the projects; to be directly constituted on those projects is better than deciding what we are or what we call ourselves. I think that sometimes it becomes unproductive. You get to know people better when you work on concrete actions. In the same way, each time a circle is set up, we could have a kind of consultancy with other already consolidated circles. Our dynamics may be good for others.
Mario, from Alicante.
I would invite Victor and Analía to organize an event in Argentina. Let's have a big, big meeting to connect. Something similar is happening in Mexico, where we are talking about issues and working in university alliances.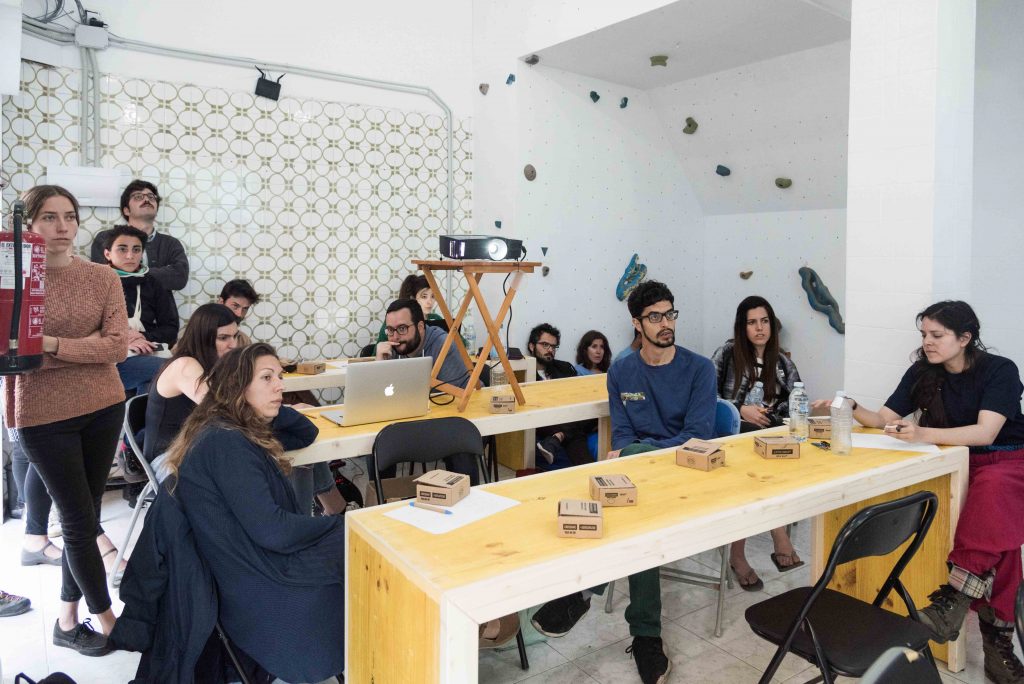 Photography: Uve Navarro | Web | Instagram
'Play', freer. 'Game', more rules
Maria and Ioana propose a playmaking for this afternoon. The idea is inspired by placemaking, a widespread practice linked to "tactical urbanism", as Ioana explains: "It is based on a kind of soft intervention on the public space; they modify the furniture slightly but without getting into its structure in depth". Changes occur in the way that this space is used. "We plan to intervene in space through play," he continues. Hence the name, playmaking. When you stop playing, space becomes what it used to be. "We're exploring the potential of game and play." Although in Spanish there are no two different words for this, the English concept of'game' means accepting some rules to play. The'play', on the other hand, is freer. That's the idea behind playmaking. And from there, we must see how this influences the modification of space, "because practices can change the use of space". And all without having to move a bench or touch a tree."These are practices that enter public space without asking permission."
Playmaking: development of games and strategies for decision making and creation of opportunities in the city, through the use of techniques, dynamics and mechanics of the game.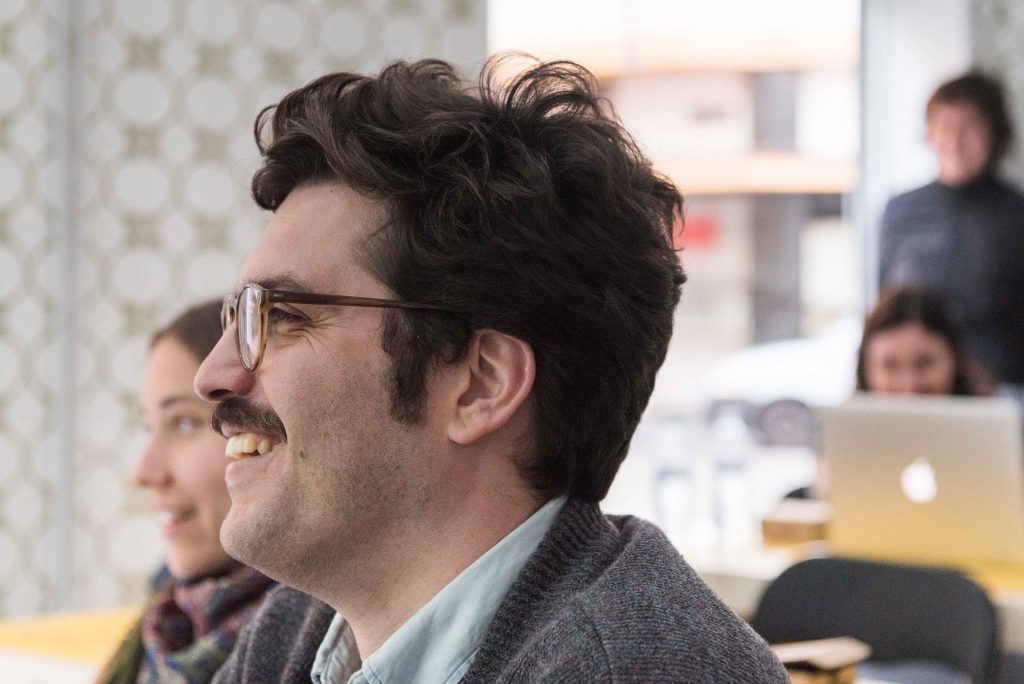 Photography: Uve Navarro | Web | Instagram