An open place where you can do things. It is that simple to define what happens – and what can happen – at 105 San Francisco de Santa Cruz de Tenerife Street. On the second last day of the Glocal Camp, we moved our work epicentre to Space 105.
Miguel Ángel relates this first approach to the space. He knows it well because it belonged to his family's company until 2005 when they moved the business to another warehouse. The premises were built in the 1960s and now want to be "a seed of another way of doing things". The idea is inspired by the teachings of Rudolph Steiner and his theory of anthroposophy. "Everything he thought a hundred years ago is still topical," says Miguel Ángel. "Steiner knew he had to put the concepts of theory into practice" and they follow in his wake.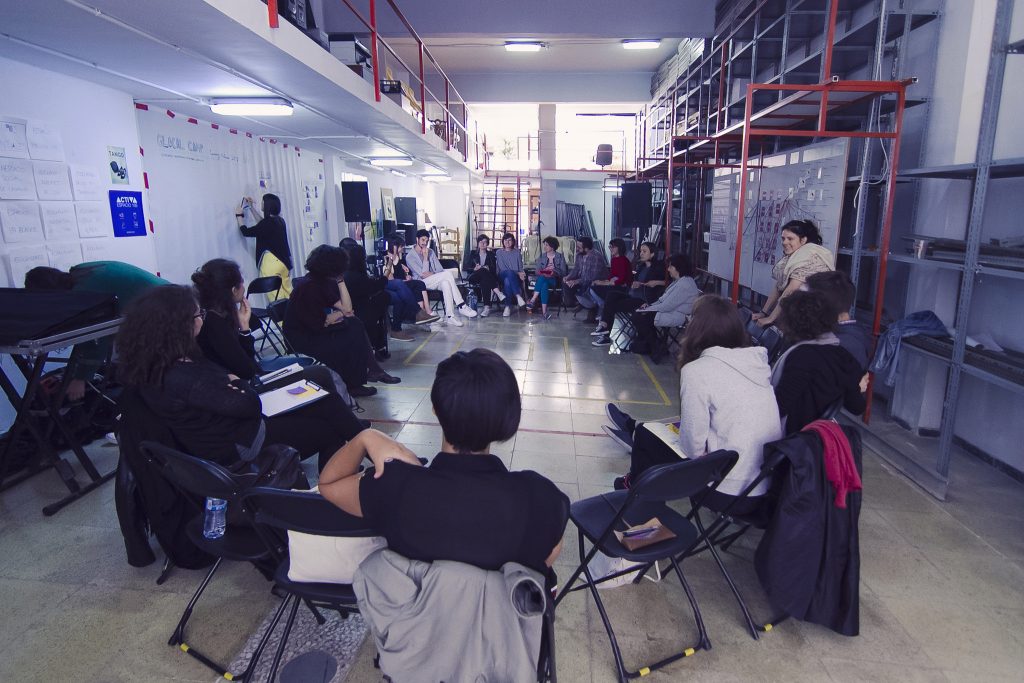 Photography: Uve Navarro | Web | Instagram
Space 105 has existed as such since 2015. It is managed by an association made up of around thirty people, although there are many more users. In these two and a half years they have been doing very different activities: it is the headquarters of an organic vegetable consumption group – "an example of real economic activity" – the rehearsal room of a theatre group, the meeting place of Canarias Cohousing and Som Energia. Even a local community is building a kayak there using the traditional system used by New Zealanders to create the boats.
"The idea is that the community should be made with the space", says Miguel Ángel, "to be able to continue it in time and in the same way, to generate a benefit for the associates". In addition, CivicWise will be in charge of redesigning the space.
"Steiner understood that, in the future, associations and collectives would be the ones to define the price of things, which is the basis of the economy. We are now in the hands of ever-growing entities that do not have a balance between consumer, producer and distribution."
The challenge now is to deepen the connection with the neighborhood: "We are walking; there is still a long way to go, although I believe that little by little it is going to take on an even bigger dimension".
Domenico Di Siena: "Legitimacy comes not from the number of people who participate but from the protocol and the method you use."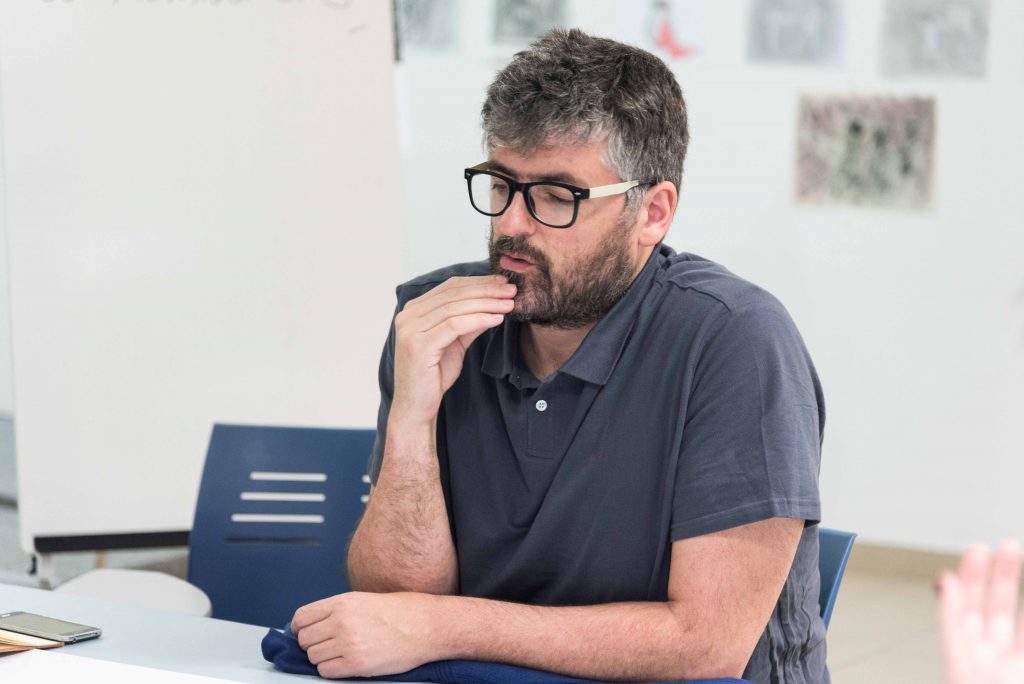 Photography: Uve Navarro | Web | Instagram
Domenico Di Siena, consultant, researcher and promoter of civic innovation projects and part of the CivicWise network, was in charge of the workshop on civic design. It redefined, among other things, the possibility of softening the borders of the institutions, which we renamed as extitutions. This concept, together with multi-belonging, commons and collective intelligence, are the four legs on which civic design is based. "Sometimes Network and social networks are confused because there is still a network awareness that we continue to work on.
At the workshop you said, "One of the failures of digital platforms for citizen participation is the importance given to voting. What would be the alternative?
Democracy is one of the best models for achieving justice between different proposals. The main node of any democratic process is the vote: it defines the existence of a majority and a minority. From the civic design, we think that the essential element is the collective intelligence and its approach is more oriented to the creation of something new. It is not so much a question of choosing between already defined proposals as of being able to develop a new proposal with the different capacities of different people together. It's not just getting a lot of people's opinions. Collective intelligence has an important focus on creative capacity: how we come together to create something new, and that goes through a process of co-learning.
We now have a lot of technologies available and we are looking forward to using them to see if more people can participate in these processes. However, these platforms need to be rethought to focus not only on the vote but also on the processes of creation and learning and the creation of new imaginaries. Voting is fine, but it cannot be the foundational element of citizen participation; it has to be one more. It seems that we are focusing very much on the vote alone, when it should be the last step, after having launched a debate, such as the one that could take place in a square.
You also talked about the fact that these platforms must become digital squares where people not only vote but also talk about them.
The square is a very powerful setting to see how, as a society, we can generate processes of coexistence and civic innovation. We should understand them as a digital square in the sense that it is in constant connection with what is happening in the territory and not as a remote superposition, as if different agents were participating. As if some participate in the digital and others in the face-to-face, because it is not true. We are the same but we participate in different ways and contexts. The digital allows us to access a process of collective creation asynchronously.
How can we establish a culture of participation in a society in which it has hitherto been conspicuous by its absence?
There is a cultural and educational problem on the one hand, and an opportunity to improve these tools, on the other. Although we have been working on participation for a long time, it is now that it is really on the agenda, which is very positive, because there is a lot of talk about it. There is still a strong dependence on representative processes. Sometimes, participatory processes have been labeled as not legitimate because very few people participate, and for me that is not understanding what participation is. I believe that it has nothing to do with those democratic processes associated with votes and representatives, but rather with the capacity to include new actors in the processes of transforming the territory, who have other knowledge within that same territory. Among them are the citizens, who know the territory better than politicians or technicians. With participation we broaden the spectrum of knowledge that we include in a process and increase the number of people and diversity that participate in this creative project. Legitimacy comes not from the number of people involved but from the protocol and method you use. And it must be focused on transparency and accessibility and on actions to ensure that anyone who wants to participate can do so.
Is all citizens 'obliged' to participate?
When you focus on voting participation you are obliged to reach out to everyone. If we are voting and carrying out a democratic process from the public administration, of course we must reach as many people as possible. It is necessary to privilege the will of some people to propose certain projects. This is beginning to be done, these spaces are being amplified so that the proposals are not only of one person and then voted on but that there is collective construction of projects. Then, if you have to choose between several proposals, then let as many of them as possible vote. But to legitimise this process, it is not a question of how many people vote, but of our ability to achieve a very wide range of proposed projects.
How to turn CivicWise into a (truly) safe place
In the afternoon, after the civic design workshop, we held the Safe Place workshop in a place with a special magic: the premises of Equipo Para. We occupy its spaces (the terrace, the corridors, the big room), its floors and its beer to, among others, visualize on a blackboard the moments when we generate dynamics contrary to the values of CivicWise. With Ioanna Valero at the helm, we tried to listen to all the participants to integrate the maximum number of points of view and new approaches to microproblems that could have occurred, both during these days at Glocal Camp and within the organization.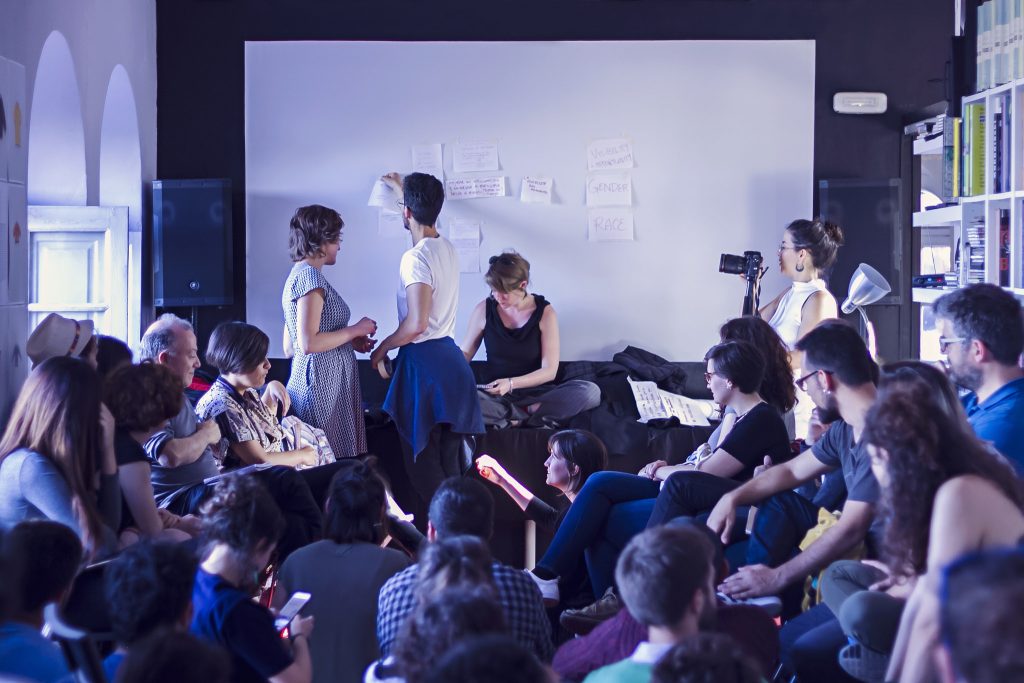 Photography: Laura Murillo | Instagram
The welcoming of the last to join, the visibility of women, internal management, the cultural dynamics inherited, etc. Any behavior or routine that may harm someone must be detected to make CivicWise a safe place. Also for the dance, an important part of this edition of the Glocal Camp. After the workshop, we danced it all with Juana La Cubana. Because twerking has long since changed sides.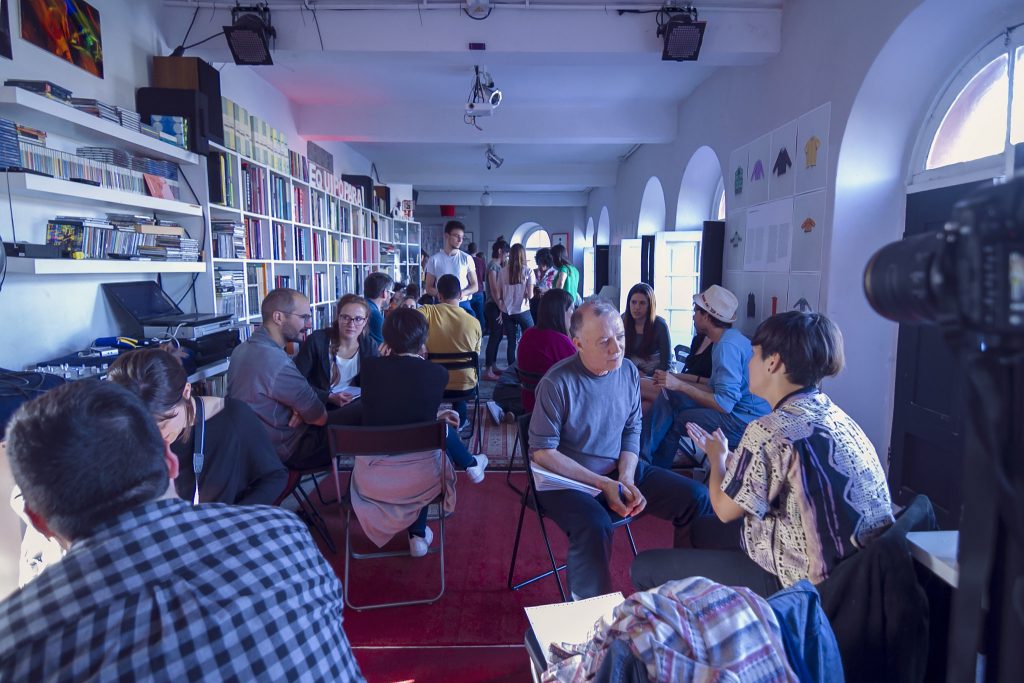 Photography: Laura Murillo | Instagram
WTFisgoingonCW
We also had the last WTFisgoingonCW, Santa Cruz de Tenerife edition, in which we were able to learn about a good number of initiatives and projects, from Canarias Cohousing to the Italian city of Trieste. Here the complete video: